Enjoy cold, sparkling or hot!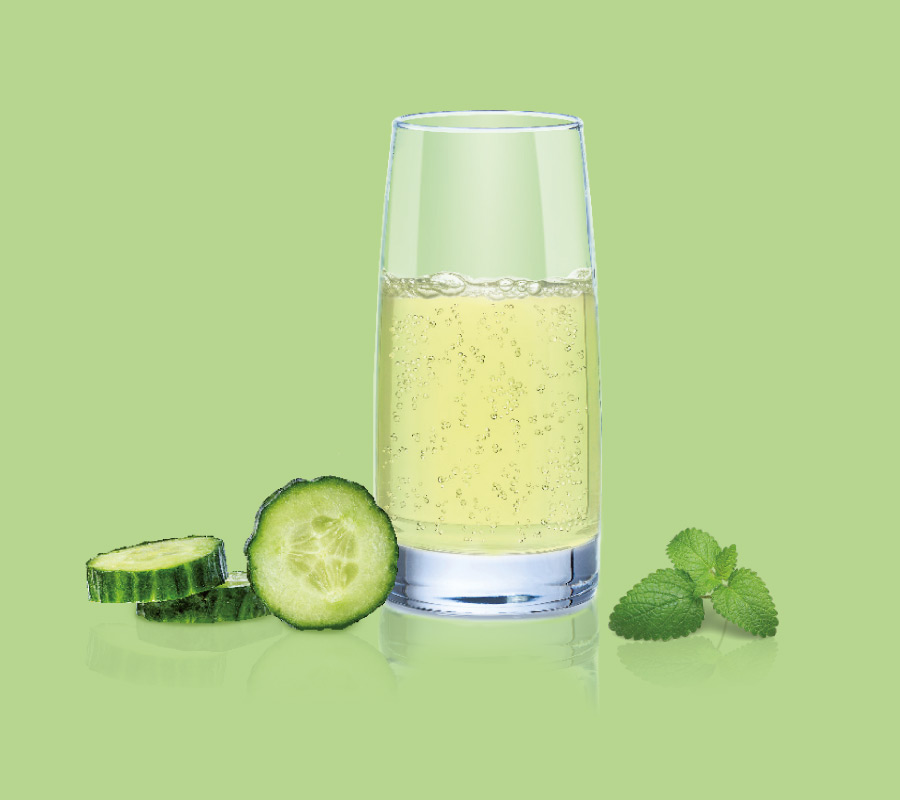 Green, fresh and cheerful sum up the essence "Green Hope", which includes cucumber and mint for a true health and beauty treasure trove to give you radiant skin and shining eyes. Green Hope enriches water with fruit and plant extracts, helping you to drink more of it.
Benefits:
2 green power fruit flavours deliver freshness, energy, vitality and increased radiance. Vitamin C, E, B5, B6, B12 and biotin. With Green Hope we can defy any daily low and hint of a cold! It gives fresh momentum to tired cells and brightens your mood! Green wave for Green Hope!
Vitamin C and its benefits
captures free radicals in the blood
important antioxidant
protects blood vessels
acts as a preventative for all diseases associated with arteriosclerosis
strengthens connective tissue
improves calcium and iron absorption
regulates hormone release
facilitates hormone release
detoxes
activates liver enzymes to eliminate toxins
stimulates fat burning in the muscles
increases responsiveness, concentration
Source: www.zentrum-der-gesundheit.de

Vitamin E – a first class antioxidant
vitamin E prevents visible signs of ageing
maintains young and health skin
promotes shining and healthy hair
regulates cholesterol levels
can help to fight cancer cells
protects cells' DNA, our genetic material
good against Alzheimer's
and many more
Source: www.zentrum-der-gesundheit.de
Vitamin B5 – the water-soluble B-group vitamin
strengthens the immune system
strengthens the nervous system
supports the gastrointestinal system
needed for the production of neurotransmitters
not stored; must be replenished every day
can reduce stress levels and boost mental performance
positive effect on memory and mental abilities
Source: www.braineffect.com
Vitamin B6 (pyridoxine) – the growth vitamin
plays an important role in the formation of haemoglobin – the red blood pigment
important for the formation of bile acid
essential for immune defence
significant for our body's growth and development
used in the treatment of skin diseases and nausea
also strengthens the immune system
combats poor concentration
good against sleep disorders, nightmares or depression
combats light sensitivity
Source: www.gesundheit.com
Vitamin B12 – the blood builder and energy bringer
strengthens the nerves
maintains the nervous system
protects against irreversible damage
combats fatigue
prevents depression
supports blood formation
protects the cardiovascular system
indispensable for stomach problems
Source: www.braineffect.com
Cucumber:
Its cool freshness brightens your mood in a deliciously light way and is instantly reminiscent of lovely, warm summer days and the lightness of being. It is one of the most popular and important of the vegetables, although botanically speaking cucumber is a fruit. It was originally cultivated and enjoyed in Southern Europe.
Sources: Zentrum der Gesundheit, Wikipedia
Mint myth:
Mint is a legendary healing and culinary plant. It was first enjoyed with all its benefits in the Mediterranean. Its essential aroma delivers a freshness that works in popular hot and cold drinks and dishes all over the world. Its name comes from the nymph Minthe of Greek mythology. It is used successfully worldwide as a remedy for ailments and for prevention in many forms.
Sources: Zentrum der Gesundheit, Wikipedia
Lime:
The wonderfully fresh and tangy aroma of this bold little citrus fruit from Southeast Asia is the perfect complement to cucumber and mint. It rounds off this green trio uniquely tone on tone. As a fruit it brings a special kick to summer cocktails. The aroma is an important element of the unique Green Hope. Fruity and zingy, it turns our beWell drink into a first-class aha experience.
Sources: Zentrum der Gesundheit, Wikipedia
Average content of ready-to-drink product per 100 ml
% NRV *
Energy
88 kJ / 21 kcal
 
Fat
0,0 g
 
of which saturated fatty acids
0,0 g
 
Carbohydrate
5,0 g
 
of which sugar
4,8 g
 
Fiber
0,0 g
 
Protein
0,0 g
 
Salt
0,000 g
 
Vitamin C
12,0 mg
15,0 %
Vitamin E
1,8 mg
15,0 %
Vitamin B5
0,90 mg
15,0 %
Vitamin B6
0,21 mg
15,0 %
Biotin
7,5 μg
15,0 %
Vitamin B12
0,38 μg
15,0 %
* % NRV = percentage of the nutrient reference value
Green Hope is a delicious nutritional essence used to make a natural refreshing drink with vitamins B5, B6, B12, C and E. With the refreshing taste of green cucumber, cooling mint and invigorating lime.
ESSENCE INGREDIENTS Fruit sweetener from apple juice, water, cucumber juice concentrate, acidifier citric acid, natural flavouring, olive leaf extract, vitamin C, vitamin E, vitamin B5, stabiliser pectin, vitamin B6, copper complexes of chlorophyllins, biotin, vitamin B12.