As a drink cool, sparkling or as tea punch
Bittersweet, fruity and tart freshness booster that thrills your taste buds, frees your mind and gives free rein to your imagination thanks to pink grapefruit and moringa. This unique combination not only tastes beneficial, but also helps to maintain normal health with lots of vitamins.
Benefits:
The vitamin B5 in Pink Positive supports normal mental performance, while B12 maintains energy metabolism.
Vitamin C and its benefits
captures free radicals in the blood
important antioxidant
protects blood vessels
acts as a preventative for all diseases associated with arteriosclerosis
strengthens connective tissue
improves calcium and iron absorption
regulates hormone release
facilitates hormone release
detoxes
activates liver enzymes to eliminate toxins
stimulates fat burning in the muscles
increases responsiveness, concentration
Source: www.zentrum-der-gesundheit.de

Vitamin B5 – the water-soluble B-group vitamin
strengthens the immune system
strengthens the nervous system
supports the gastrointestinal system
needed for the production of neurotransmitters
not stored; must be replenished every day
can reduce stress levels and boost mental performance
positive effect on memory and mental abilities
Source: www.braineffect.com
Vitamin B6 (pyridoxine) – the growth vitamin
plays an important role in the formation of haemoglobin – the red blood pigment
important for the formation of bile acid
essential for immune defence
significant for our body's growth and development
used in the treatment of skin diseases and nausea
also strengthens the immune system
combats poor concentration
good against sleep disorders, nightmares or depression
combats light sensitivity
Source: www.gesundheit.com
Vitamin B12 – the blood builder and energy bringer
strengthens the nerves
maintains the nervous system
protects against irreversible damage
combats fatigue
prevents depression
supports blood formation
protects the cardiovascular system
indispensable for stomach problems
Source: www.braineffect.com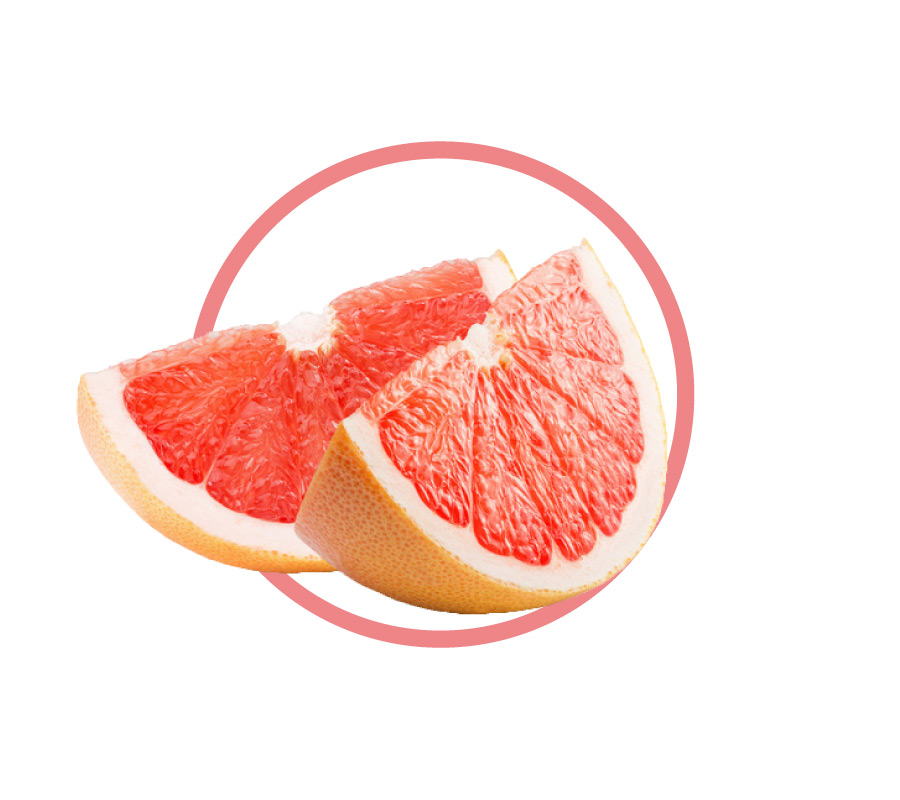 Pink grapefruit
The sweet and sour citrus fruit, also known by its Latin name of Citrus paradisi, is the epitome of freshness and tanginess. It is the perfect result of crossing grapefruit and orange. Its vibrant pink flesh symbolises zest for life, sun and holidays! The aroma is enhanced in combination with magnesium mineralised water and is an impressive flavour carrier. Nomen est omen.
Sources: Zentrum der Gesundheit, Wikipedia
Moringa
is a tree full of surprises and is certainly the most unusual thing the superfood market has to offer. Originally from the Himalayas and now also native to Africa and Tenerife, truly every part of this tree is blessed with the best of nature and can be used. The taste of moringa is reminiscent of green tea, bringing a light, bitter note to your Pink Positive.
Sources: Zentrum der Gesundheit, Wikipedia
Average content of ready-to-drink product per 100 ml
% NRV *
Energy
91 kJ / 21 kcal
 
Fat
0,0 g
 
of which saturated fatty acids
0,0 g
 
Carbohydrates
5,1 g
 
of which sugar
4,9 g
 
Fibre
0,0 g
 
Protein
0,0 g
 
Salt
0,038 g
 
Vitamin B5
0,90 mg
15,0 %
Vitamin B6
0,21 mg
15,0 %
Biotin
7,5 μg
15,0 %
Vitamin B12
0,38 μg
15,0 %
* % NRV = percentage of the nutrient reference value
Pink Positive is a bittersweet nutritional essence used to make a refreshing drink with vitamins B5, B6, biotin and B12. With the tart freshness of grapefruit and the slight bitterness of moringa.
ESSENCE INGREDIENTS Fruit sweetener from apple juice, water, orange juice concentrate, acidifier citric acid, pink grapefruit juice concentrate, natural citrus flavouring with other natural flavours, moringa extract, colouring concentrate from carrot, vitamin B5, stabiliser pectin, stabiliser locust bean gum, vitamin B6, biotin and vitamin B12.