AQA essenza 20+2
10 choices
Perfect water dispenser and lifestyle drink system. 2 in 1.
The machine for the flavourful, sparkling boost to health, balance, concentration and motivation for you, your customers, guests and employees.
AQA essenza 20+2 offers 2 in 1:
magnesium mineralised water (approx. 20 l/h)
2 naturally refreshing essences
With 10 choices the AQA essenza 20+2 makes it easy to enjoy your recommended healthy water intake in a flavourful and refreshingly versatile way. The aromatic, nutritional essences boost immune defence and vitality.
Mix your drink your way. The flavours of our natural essences have been so well balanced that they taste great served still, sparkling or chilled.
YOUR ENVIRONMENTAL CONTRIBUTION: 98 % less rubbish. AQA essenza produces 50 glasses of 200 ml from 1 litre of essence mixed with table water. Those are best values not just economically, but also environmentally. 1 litre of beWell essence replaces up to 50 drinks cans or bottles. Rubbish mountains of PET bottles, drink cartons, outer packaging or single-serve packaging can be forgotten. 98 % less rubbish.
Pure filtered table water + fruity mix drinks from essences:
3 water options – still, chilled, sparkling
6 drink options – 2 essences for mixing with a choice of still, chilled, sparkling
Firewall36
In glasses, cups, carafes
Fully automated cleaning programme
Payment systems:
coins, card, phone
| | |
| --- | --- |
| CFC-free cooling | Yes |
| Coolant R134A | Yes |
| 3.5″ colour info display | Yes |
| Dispenser height | 220 mm |
| Stainless steel tank | 1 litre |
| Electrical connection | 230 V / 50 – 60 Hz |
| Max. consumption | 0,55 A |
| Flow rate delta 10o | 16 l / h |
| h / w / d (mm) | 558 / 318 / 551 |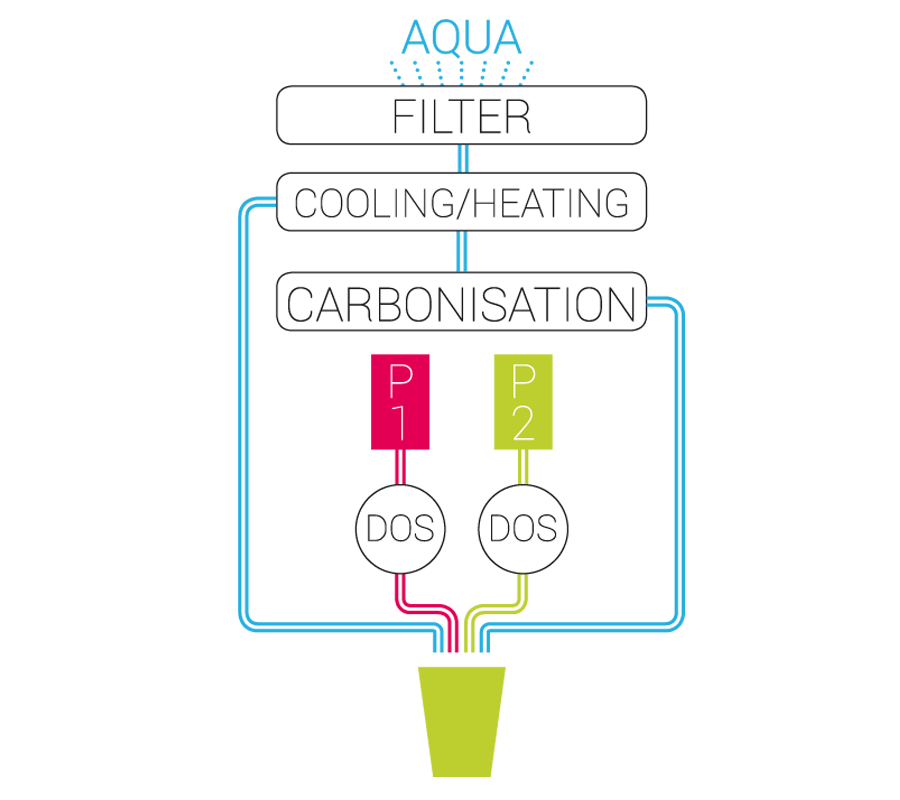 P = product | DOS = dosage